Created Equal Film & Arts Series
Partner:



What's a Performance Artist to Do
When a Political Reality is Weirder than Art?
From creating a critically acclaimed one-woman show about depression and suicide among Asian-American women, to being blocked on Twitter by President Trump and the entire Trump family, to staging immersive theatre in a Manhattan hotel room using ASU Honors students as historical reenactors, to creating a popular Youtube series on how not to pick up Asian chicks, to a very public attempt to marry NBA star Jeremy Lin, to becoming a HipHop star in Uganda, to…running for political office in California???...Kristina Wong has proven to be one of the most dynamic and hilarious performance artists of her generation.
Join us for a community dialogue in which Kristina Wong will discuss the role of artists and comedians in the age of Trump, the unique challenges women of color face in the entertainment business, new horizons in theatre, the successes and struggles of being a self-sustaining artist, and her myriad upcoming projects.
Free  |  Open to the Public

Learn more about Kristina Wong...watch her sizzle reel:
Speaker Biography
Kristina Wong was featured in the New York Times' Off Color series "highlighting artists of color who use humor to make smart social statements about the sometimes subtle, sometimes obvious ways that race plays out in America today." She is a performance artist, comedian and writer who has been presented across North America, the UK and Hong Kong. Her most notable touring show,"Wong Flew Over the Cuckoo's Nest," looked at the high rates of depression and suicide among Asian American women and toured dozens of venues across the United States since 2006. Wong has been a commentator for American Public Media's Marketplace, PBS, VICE, Jezebel, xoJane,, Huffington Post and a guest on Comedy Central's The Nightly Show with Larry Wilmore, FXX's "Totally Biased with W. Kamau Bell,"  and AM Tonight on Fusion TV. She has had roles on General Hospital, Nickelodeon's "Nicky Ricky Dicky and Dawn" and Myx TV's "I'm Asian American and Want Reparations for Yellow Fever." Wong is currently touring "The Wong Street Journal" about navigating White Privilege as an Asian American "Mzungu" in East Africa. She spent a month in Northern Uganda recording a hit rap album "Mzungu Price" with local rappers and doing research for that show.
Wong's work has been awarded with grants from Creative Capital, The MAP Fund, Center for Cultural Innovation, the Durfee Foundation, National Performance Network, six Artist-in-Residence grants and a COLA Master Artist Fellowship from the Los Angeles Department of Cultural Affairs. In 2017, she was named as one of the "YBCA 100″ celebrating the innovators, provocateurs and thought leaders who are using their platform to create cultural movement. She also received the FOCUS AWARD from Kearny Street Workshop for her unique contribution to amplifying the Asian Pacific American community's collective voice within American culture. Wong has been awarded residencies from the MacDowell Colony, New York Theater Workshop, Ojai Playwrights Festival, Montalvo Center for the Arts, Hermitage and Atlantic Center for the Arts. She has also taught at Cal Arts in the Master of Fine Arts Creative Writing program and has twice given the commencement speech at University of California Los Angeles, her alma mater.
Directions & Parking
Location: 
A.E. England Building  |  ASU Downtown Phoenix 
424 N. Central Ave.  Phoenix, AZ 85004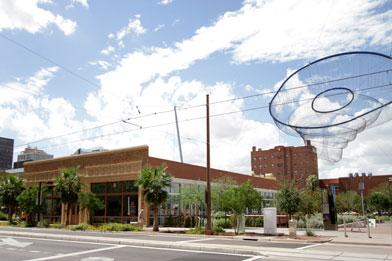 Directions:
The A.E. England Building is located on Central Ave. in the Civic Park Space across from ASU's Downtown Phoenix campus.  For driving directions, click on the map button below and then select "Directions," or contact our office.

Parking:
There are multiple Visitor Parking options at ASU's Downtown Phoenix campus. The closest parking to the A.E. England Building is the ASU Visitor Lot located on the southeast corner of Central Ave & Fillmore Street.  Review the parking map, http://www.asu.edu/parking/maps/downtown-current.pdf, for all ASU's parking options.  Visitors lots are marked in pink and the fee is $3/hour.
There is also a non-ASU pay-by-the-space lot on the northeast corner of Central Ave. & Fillmore Street and City of Phoenix metered parking is available around all buildings.